Digital Business Card + Facebook Business Bot = Smart Business
Instantly connect your Business Bot to leads and customers through Facebook Messenger
SmartConnect Demo
Scan or click the SmartQR to experience SmartConnect in Action. Opens in Facebook Messenger

About Smart Business Cards
Your SmartQR is linked to your personal Facebook Messenger Business Bot. With ONE scan your SmartQR literally fires up a 'Marketing Machine' in your contact's Messenger.
Connect instantly with other smart phones, send your contact details, deliver your location directly on their map, send relevant information, video, content and start a conversation anywhere, even from the physical products you're already selling.
"If you're not SmartConnected, you're not connected"
SmartQR + Business Bot = Connected
Smart Business Card
Smart Wallpaper
Instant connect to phone, email and apps
Customers book meetings and appointments in your CRM
Connect to video
Connect to sales brochure, sheets or information
Instantly connected through Facebook Messenger
Every connection automatically becomes a contact on your Messenger list
SmartConnect + Smart QR Codes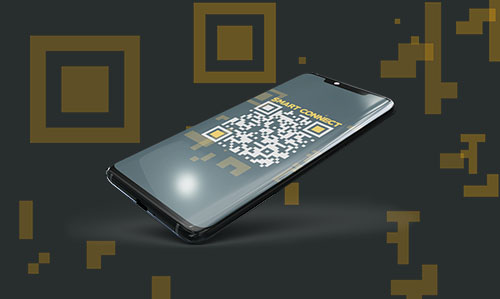 SMART WALLPAPER
Set your SmartQR as your phone wallpaper and instantly connect your Facebook Business Bot to anyone who scans it.
SMART BUSINESS CARDS
When a new contact scans the SmartQR printed on your business card you are instantly connected.
SMART NAME BADGE
When a new contact scans the SmartQR printed on your business card you are instantly connected.
How Does SmartConnect Help You Do Better Business?
FACEBOOK MESSENGER
Facebook Messenger is already on 1.5 Billion phones and Facebook really, really like conversational marketing. It's a no brainer!
MESSENGER IS THE NEW EMAIL
When connecting through messenger you'll be amazed at how quickly contacts respond. Seems people really, really like chat!
100% CONVERSIONS
Every scan becomes an instant contact. Make friends and nurture relationships. Catch up regularly with everyone. Contacts love talking
SmartQR + Business Bot = Smarter Networking
With SmartConnect you are just ONE scan away from prospects, leads and potential customers.
Exhibitions
Conferences
Seminars
Networking
Trade Shows
Or even down the pub!
"The smartest way to network and make valuable connections"
Your SmartConnect Package
When you order SmartConnect today you receive:
Custom made Business Bot linked to your Facebook Messenger account
Business Bot contains all your contact details and is Messenger ready for instant messaging
Book meetings or appointments via your calendar or CRM
Display your premises on Google maps
Personalized SmartQR (light and dark) in png format
Direct link to your website or online shop
SmartQR phone/tablet wallpaper
SmartQR is dynamic and contact details can be changed*
SmartLink – A web link for your contact pages that connects straight to your Business Bot
We've tried to answer as many questions as possible here to make your buying decision easier. If we've missed anything just drop us a line and we'll get right back to you:
Does SmartQR work with all smart phones?
Both iPhones and Android smartphones can scan QR codes directly from the main camera app, as long as it is using the latest iOS or Android software.
Is linking people to my Messenger that simple?
Yes! A person scans your SmartQR and we instantly connect them to your Messenger chat bot. This automatically delivers all of your pre-set information to their Messenger for future reference. You continue any conversation directly via Messenger, phone, email or other apps.
What information is available to me about people who scan my SmartQR?
SmartQR is linked to Facebook Messenger which hold Facebook profile information. When someone connects with you, Facebook make available certain information such as name, email, phone number. You can continue to get to know your contact through conversational marketing.
How do I build my contact list?
Present your SmartQR whenever the opportunity arises. As soon as someone connects to you with their phone they become a contact within messenger.
Do I need a Facebook business page?
That depends. We can link directly to your personal page or a business page. A business page is set up under the personal account although Facebook keeps them separate. Just ensure you put the correct page URL in the order form.
Why Facebook Messenger?
Why reinvent the wheel? Messenger is already on 1.5 Billion smart phones. People can connect to you without any 3rd party app or software. It's simple!
Do I need Facebook Messenger on my phone?
Yes. You will need to have the Facebook Messenger App installed on your phone in order to connect to other Messenger users. This can be downloaded from the App store.
How does my SmartLink work?
When you order SmartConnect we create a unique SmartLink. This can be displayed on the web or in emails etc. When clicked the user is instantly connected to your Messenger via desktop or smart device.
How does SmartConnect work with badges and lanyards etc?
Included in your package are printable SmartQR codes in light and dark colours. Send these to your printer when creating your designs.
What details does my bot come with?
Your bot comes with all your standard contact information, links to any external websites, instant PhoneMe button and connection to Messenger.
*What happens if my details change?
Not a problem! SmartQR is dynamic meaning that we can change any details without having to change the code. There is a small charge for us to do that for you as we have to manually edit the chat bot.
Can I commission more complex bots?
**What is your refund policy?
If you have an issue we'll do all that we possibly can to fix it. If we can't, we'll refund your order … Simple!
What happens once I order?
As soon as we receive your order it is placed in the queue to be fulfilled by one of our team. We create your bot based on the information you provide. We set up your SmartQR and test it, which is then delivered by email. We will keep you informed of progress.
Who are you and how do I get in touch?
Good question! We are The Creative Robots Digital Marketing Agency based in Nelson, New Zealand (voted the most trustworthy country in the world). We have been providing quality services since 1999. eMail us any time via the Contact Us form or visit TheCreativeRobots.com
Growth-minded businesses should jump on this to start building contact lists and engaging with their audiences through messaging.
The platform's simplicity makes it ideal for entrepreneurs and marketers in smaller companies, while its technology makes it suitable for enterprise customers.
The technology will help companies convert leads into customers by automating personalized bookings via a conversational interface. Adding conversion optimization via a personalized-at-scale business bot experience makes a lot of sense."
Bots are all the rage these days, thanks to massive advancement in artificial intelligence (AI) and natural language processing (NLP). They are being increasingly used by businesses of all sizes to interact with their prospective and existing customers, not just in the area of customer support, but also in sales and marketing.
Facebook Messenger, Neil Patel's Favorite Marketing Tool
For some reason, not very many businesses are taking advantage of Messenger to grow their contact network, even though it's the hottest opportunity in digital marketing today.

Neil Patel Forbes Top 10 Marketer
Facebook Messenger messages have an open rate of 50-80%
Facebook Messenger messages have a click-through rate of 20%, especially when using promotional communications
Facebook Messenger messages have a conversion rate of 3-5x higher than Facebook desktop ads
Facebook Messenger marketing costs 30-50x less than Facebook ad campaigns (when using Facebook Send-to-Messenger Ads)
Companies Using Business Bots

ORDER TODAY
We are confident that you'll be delighted with your SmartConnect Package
**Your SmartConnect Package comes with a full money back guarantee. Simply drop us a line and we'll do our best to fix any concern and if we can't make you happy, we'll make a refund.